Ape Out is now free on the Epic Games store
Until December 24 at 11am ET / 8am PT / 4pm UK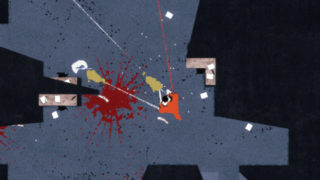 Ape Out is now free to download from the Epic Games store.
Developer by Gabe Cuzzillo, Bennett Foddy and Matt Boch, and published by Devolver Digital, "Ape Out is a wildly intense and colorfully stylized smash 'em up about primal escape, rhythmic violence, and frenetic jazz."
The PC version of the game normally costs £10.99 on Epic's store and has a Metascore of 83 based on 34 reviews.
It will be free to download until December 24 at 11am ET / 8am PT / 4pm UK.
The Epic Games store launched its holiday sale on Thursday, which includes the release of a free game every day for 12 days.
Titles offered so far include Into the Breach, Towerfall Ascension, Superhot and Little Inferno.
Running until January 1, the sale is billed as up to 75% off selected games.
Epic is also offering a $10/£10 Epic Games store coupon with every single game purchase of $14.99/£14.99 or above during the sale period.
Steam and GOG are also currently running winter sales featuring discounts on thousands of titles until January 2.