Another indie studio has been formed by a Sony Japan Studio exile
Tokyo Jungle producer announces EPIGRAsm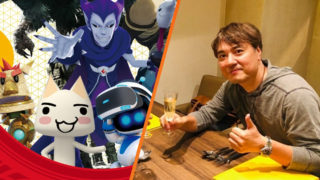 Masami Yamamoto, who until recently served as an executive producer and external production director at Sony's Japan Studio, has established a new development house.
On the day that Sony is due to absorb Japan Studio into its Worldwide Studios operation, Yamamoto announced his new studio EPIGRAsm.
"I apologize if this sounds like an April Fools' joke, but on March 31, I established the company EPIGRAsm," he tweeted (translated by Gematsu).
"I've had the privilege of living life through the things I love, so from now on I would like to 'live with the people I love' as a driving principle. I'll continue to do my best in all areas including game production!"
During his time at Japan Studio, Yamamoto executive produced games including Tokyo Jungle and Rain, and was an external production manager for Bloodborne, Soul Sacrifice, Freedom Wars and more.
VGC sources revealed in February that Sony was planning to wind down Japan Studio, with the majority of its development staff being let go and the remaining employees being absorbed into Astro's Playroom developer Team ASOBI.
Sony later confirmed this in a statement, saying: "In an effort to further strengthen business operations, SIE can confirm PlayStation Studios Japan Studio will be re-organized into a new organization on April 1.
"Japan Studio will be re-centered to Team ASOBI, the creative team behind Astro's Playroom, allowing the team to focus on a single vision and build on the popularity of Astro's Playroom."
Dozens of Japan Studio employees have confirmed their departures over the past months, and VGC understands the majority of its original game developers have left the studio, which is known for the Ape Escape, Gravity Rush and Knack series of games.
Keiichiro Toyama, the director of both Gravity Rush games, the first Silent Hill and the Siren series, confirmed his departure in December.
Toyama formed a new studio, Bokeh, along with Junya Okura, lead designer on the Gravity Rush series, and Kazunobu Sato, lead designer of 2013's Puppeteer, who both also left Sony following nearly two decades of service.
Gavin Moore, the creative director of PS5's Demon's Souls remaster, also confirmed on Thursday that he's left Japan Studio after almost two decades.