Annual UK game sales topped £4 billion for the first time in 2020
Digital game sales alone worth more than the video market and double the music market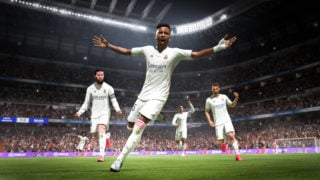 UK video game software revenues exceeded £4 billion for the first time in 2020, driven by booming digital sales.
Annual game sales totalled £4.2 billion, up 14.5% compared to 2019, when sales declined for the first time since 2012.
Digital game sales rose 16.3% last year to reach £3.6 billion – more than the total generated by the entire video market (£3.2 billion) and over twice as much as the music market (£1.6 billion).
Having declined by 21.7% in 2019, physical game sales returned to growth in 2020 with revenues up 4.6% to £598.5 million, according to data released on Friday by the Entertainment Retailers Association.
FIFA 21 was the best-selling game of last year with almost 2.2 million sales, ahead of fellow 2020 release Call of Duty: Black Ops Cold War and Grand Theft Auto V, which first launched way back in September 2013.
UK best-selling games 2020
FIFA 21 (2,182,694)
Call of Duty: Black Ops Cold War (1,420,353)
Grand Theft Auto V (1,127,222)
FIFA 20 (903,810)
Call Of Duty: Modern Warfare (897,350)
Animal Crossing: New Horizons* (810,462)
Assassin's Creed Valhalla (665,815)
The Last Of Us Part 2 (539,247)
NBA 2K20 (481,507)
Rainbow Six Siege (436,957)
*No digital data provided for Animal Crossing: New Horizons
Grand Theft Auto V was the UK's best-selling physical game of the 2010s, ahead of Call of Duty: Black Ops and Minecraft.
On the hardware front, Nintendo Switch sold about as many units in the UK last year as the PS5, PS4, Xbox Series S/X and Xbox One combined, according to GamesIndustry.biz head Christopher Dring.