Anime streaming platform Crunchyroll is now on Switch
The service boasts thousands of titles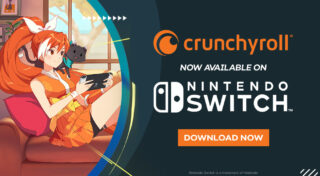 Anime streaming service Crunchyroll is now available on Nintendo Switch.
The app, which users can download from the Nintendo eShop, gives subscribers access to the service's full catalogue of films and tv series.
According to a post on Crunchyroll's blog: "Mega Fan and Ultimate Fan subscribers will be able to enjoy offline viewing, as well, allowing for the same off-network anime access available through mobile devices."
A Mega Fan account currently costs around £7.99 /  $7.99 per month. This offers viewers ad-free streaming, new episodes of shows one hour after they've aired in Japan, access to a collection on manga, and the ability to stream on 4 devices at once.
Shenmue - official anime trailer
Crunchyroll is an anime streaming service that was originally founded in 2006 by a group of university graduates.
The service offers over 1000 anime shows and has over 120 million registered users across more than 200 countries.
While it offers free ad-supported streams of some content, it also has a paid streaming service that currently boasts 5 million subscribers.
Sony announced in December 2020 that it was planning to acquire Crunchyroll for $1.175 billion. Crunchyroll is now part of its Funimation Global Group company.
It was rumoured last year that Sony may be planning to add a new 'premium' tier of PlayStation Plus which includes a Crunchyroll subscription.
An anime based on Shenmue debuted on Crunchyroll in early February.