Anime Adventures – Halloween update patch notes and code
Find out what's new in Anime Adventures' Halloween update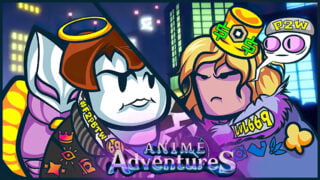 Anime Adventures' new Halloween update has just gone live.
As the name suggests, the new update adds a new Halloween event, which includes a new mode called Nightmare Hunt where you battle an undead army.
The update also adds new limited-time halloween skins and secret unites, as well as new Halloween Bundles.
The new update also comes with a new code, which you can find here:
The full update notes for Anime Adventures can be found below:
---
Anime Adventures – Halloween update patch notes
New Event: Halloween
The Halloween Event is here! Enter the Nightmare Hunt and battle an undead army! Gather Candies as you survive waves, and make pivotal choices along the way. Conquer enough waves for a chance at a shadowy Secret unit! Discover new limited units and skins to aid your progress. Keep an eye out for another unholy figure, revealed only to those with enough Candies!
New Gamemode: Nightmare Hunt
Fight against hordes of incoming enemies!
Every few waves, choose a path to modify the game! Pick buffs to help out your team, or pick challenges to increase your rewards!
Defeat all 50 waves to gain even more rewards and a chance at a Secret unit!
Equip new skins and new units to boost damage and drop rates!
New Limited-Time Event Units!
New Limited-Time Secret Units!
New Limited-Time Halloween Skins!
New units have increased damage and drop rate in Nightmare Hunt!
New skins increase damage and drops too! Click on the skin for more details!
Two New Limited-Time Halloween Bundles
 New Halloween Bundles are available for a limited time in the "Specials" section of the Store!
New Evolve Quests!
New Event Quests!
New unit mechanics!
Balance changes + bug fixes!
And much more coming soon!
Other Products
Some external links on this page are affiliate links, if you click on our affiliate links and make a purchase we might receive a commission.