Animal Crossing: New Horizons sold 13m copies in just six weeks
Switch title has already outsold previous entries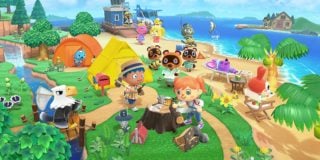 Animal Crossing: New Horizons sold 13.41m units in its first six weeks on sale, Nintendo has announced.
The figure represents the best launch ever for a Nintendo Switch title, the platform holder said in its financial results on Thursday. The number includes both physical and digital versions of the game.
In comparison, Pokémon Sword and Shield – previously referred to as Switch's fastest-selling game launch – sold six million units in its first week and 12.9 million in its first nine weeks.
New Horizons has already outsold all previous Animal Crossing instalments, including New Leaf and Wild World, according to Nintendo.
In terms of consumer demographics, Nintendo said that a high percentage of New Horizon players are in their 20s and 30s, and over 40 percent are female. Among this group, many appear to have newly purchased a console in the Nintendo Switch family, it said.
As of March 31 – 11 days after its release – New Horizons had sold 11.77m units, which would make it the seventh best-selling Nintendo Switch title to date, behind Pokémon titles Let's Go (11.97m) and Sword and Shield (17.37m), Super Mario Odyssey (17.41m), The Legend of Zelda: Breath of the Wild (17.41m), Super Smash Bros. Ultimate (18.84) and Mario Kart 8 Deluxe (24.77m).
The six-week numbers would likely take New Horizons up a place to the sixth best-selling Switch game.

Nintendo's latest software sales also indicate that Pokémon Sword and Shield (17.37m) is on course to become the series' best-selling instalment, with only DS's Diamond and Pearl (17.67m) to beat.
Zelda title Breath of the Wild has caught Mario Odyssey, with both titles listed as having sold 17.41m units.
In total, the number of million-selling titles during the year ended March 31, 2020, reached 27, including those from third-party publishers.
On the hardware front, Nintendo confirmed that Switch shipped an additional 3.29m units during its last quarter, bringing the console's total sales to 55.77m units.
The Japanese company sold around 21m units during the fiscal year ended March 31, which was more than the 19.5m it forecast.
Nintendo Switch recently outsold the Super NES to become the Japanese company's third best-selling home console and its seventh best-selling games system overall.
Nintendo forecasts Switch sales of around 19m in its current fiscal year and warned that the coronavirus pandemic could impact the release of software and services.
---
NINTENDO SOFTWARE SALES
(April 1, 2019-March 31, 2020 / Life to date total)
Pokémon Sword/Pokémon Shield 17.37m / 17.37m
Animal Crossing: New Horizons 11.77m / 11.77m
Mario Kart 8 Deluxe 8.08m / 24.77m
Luigi's Mansion 3 6.33m / 6.33m
Super Mario Maker 2 5.48m / 5.48m
Super Smash Bros. Ultimate 5.03m / 18.84m
The Legend of Zelda: Breath of the Wild 4.64m / 17.41m
The Legend of Zelda: Link's Awakening 4.38m / 4.38m
Super Mario Party 3.70m / 10.1m
New Super Mario Bros. U Deluxe 3.29m / 6.6m
Super Mario Odyssey 2.97m / 17.41m
Fire Emblem: Three Houses 2.87m / 2.87m
Ring Fit Adventure 2.73m / 2.73m
Splatoon 2 1.43m / 10.13m
Pokémon: Let's Go, Pikachu! Pokémon: Let's Go, Eevee! 1.34m / 11.97m
Pokémon Mystery Dungeon: Rescue Team DX 1.26m / 1.26m
Marvel Ultimate Alliance 3: The Black Order 1.08m / 1.08m
Astral Chain 1.08m / 1.08m
NINTENDO SWITCH TOP 10 SELLING GAMES
(March 31, 2020)
Mario Kart 8 Deluxe 24.77m
Super Smash Bros. Ultimate 18.84m
The Legend of Zelda: Breath of the Wild 17.41m
Super Mario Odyssey 17.41m
Pokémon Sword/Pokémon Shield 17.37m
Pokémon: Let's Go, Pikachu! Pokémon: Let's Go, Eevee! 11.97m
Animal Crossing: New Horizons 11.77m
Splatoon 2 10.13m
Super Mario Party 10.1m
New Super Mario Bros. U Deluxe 6.6m