Animal Crossing: New Horizons 'is now Japan's best-selling game of all-time'
The Switch title has reportedly topped the original Game Boy Pokémon games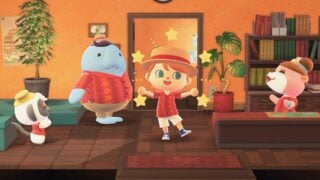 Animal Crossing: New Horizons is reportedly now the best-selling video game of all-time in Japan.
That's according to Game Data Library, a website which collates Japanese sales data. According to the site, New Horizons has now sold 10.45 million copies in Japan, surpassing the long-time record held by original Pokémon Game Boy titles Red and Green (10.23m).
The Nintendo Switch Animal Crossing title has achieved the feat despite only releasing two years ago. Three of the other four titles in Japan's top 5 were released over 20 years ago (including Pokémon Gold & Silver, Super Mario Bros.).
The fifth best-selling game in Japan is Super Smash Bros. Ultimate, which released for Nintendo Switch in 2018. In total, six Switch games make up the top 20 including Mario Kart 8 Deluxe, Pokémon Sword and Shield, Splatoon 2 and Splatoon 3.
According to Nintendo's latest sales numbers released this week, Animal Crossing: New Horizons has sold 40.17 million copies globally, as of September 30, 2022. That suggests more than 35% of Switch users have purchased the game.
On Switch, only Mario Kart 8: Deluxe has outsold Animal Crossing at 48.1 million copies sold.
New Horizons has more than tripled the lifetime cumulative sales of 12 million for Animal Crossing: New Leaf, which was the previous best-selling entry in the series.
Nintendo previously claimed there was a high ratio of digital sales for New Horizons in multiple regions at release, averaging around 50% in Japan, the US and Europe.
Speaking in 2020, Animal Crossing series head Hisashi Nogami and New Horizons director Aya Kyogoku discussed the history and future of the franchise during an online talk for Japan's Computer Entertainment Developers Conference (CEDEC).
In the wide-ranging presentation, Kyogoku reportedly told attendees that the key to the series' 20-year popularity was its ability to make each instalment different enough from the last, while also retaining the core appeal of the series.
"While this is the real pleasure of developing a series, it is also the most difficult point," she said, adding that the development team had realised over the years that Animal Crossing series "cannot be sustained without change."