Animal Crossing horror movie gets the green light
Don't Peek, a short film about a monster inside a Switch, will be turned into a feature film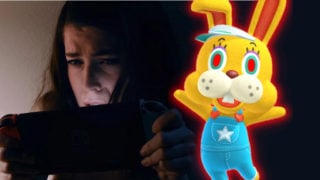 A short horror movie about a monster trapped inside Animal Crossing: New Horizons is to be made into a feature-length motion picture.
Don't Peek is a short film unaffiliated with Nintendo, which was shot during quarantine by director Julian Terry, and focuses on a woman playing her Switch in bed at night.
As she plays Animal Crossing, she realises that performing actions in her character's bedroom (like opening drawers, turning on lights) makes the same actions happen in her actual room.
At first she's impressed by this, but then she sees a figure with a grotesque face standing in an open doorway in the game.
The creature, called ZoZo, asks her: "Will you let me out?" She chooses 'No' and the invisible force opens her bedroom door and appears to crawl under her bedsheets.
Startled, she then chooses 'Yes' and the creature appears to go away, only to startle her with a jumpscare at the end of the short.
According to Deadline, the short is to be adapted into a feature-length film by Timur Bekmambetov, who previously produced the Unfriended horror movies and directed Night Watch and Day Watch.
Although the article doesn't state who will be directing the film, Terry posted a comment under the video on YouTube stating that he would be in the director's chair.
When asked by another commenter whether he was worried about being sued by Nintendo, Terry explained that the feature-length movie wouldn't directly reference Animal Crossing, but would instead cover gaming more broadly.
"It's not an Animal Crossing feature. We know we can't legally get away with that," he said. "The story is actually something else entirely and taps into the nostalgia of video games. I can't wait for you all to see it."
Terry has another short film currently being made into a full-length movie. Amblin Entertainment has picked up Whisper, a short film about a woman whose Amazon Echo starts picking up commands from a demon in her bedroom. This too ends with a jumpscare in a bed (as does Terry's Annabelle-themed short The Nurse).
While it's not clear yet what the feature-length version of Don't Peek will be about, then, we have a good idea how we think it might end.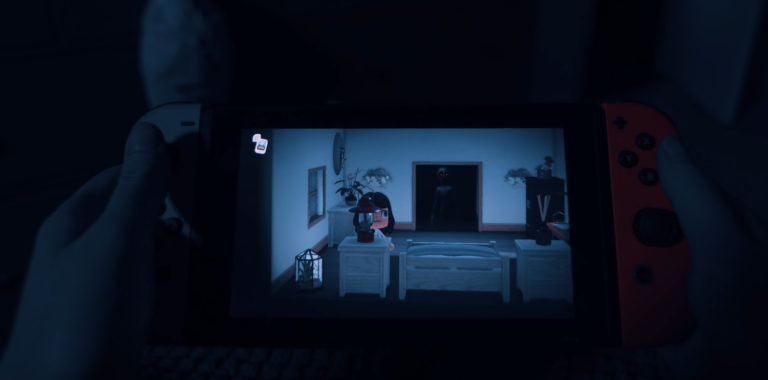 Video game adaptations have become a hot item in the movie and television world in recent years. Following the recent wave of successful video game movies, including Sonic the Hedgehog and Detective Pikachu, more projects are in development including Uncharted (starring Tom Holland), Mortal Kombat and Dreamworks' Super Mario movie.
Sony is reportedly developing three movies and seven TV shows based on PlayStation games, as part of its new PlayStation Productions business.
The first TV series from PlayStation Productions will be an HBO adaptation of The Last of Us, with Game of Thrones actors Pedro Pascal and Bella Ramsey cast in the lead roles. The second is an action comedy based on the Twisted Metal series from Deadpool's writers.
And according to a recent report in the film press, Star Wars and Dune actor Oscar Isaac will play Solid Snake in the planned Metal Gear Solid movie.