'Angry' EA says it will act against employees allegedly caught selling FUT cards
"We appreciate how extremely annoying and frustrating it is that this practice might have come from within EA"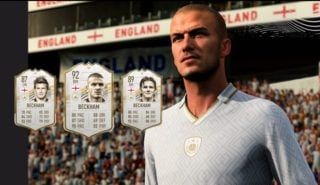 Electronic Arts has moved quickly to update the FIFA 21 Ultimate Team community about a potential scandal involving its own employees allegedly selling access to rare player cards.
According to multiple unconfirmed reports this week, at least one EA employee was caught actively selling FIFA 21 Icon and Team of the Year cards in packages costing in excess of €1,000 ($1,191).
In messages claiming to show a conversation with the employee, they appear to offer to use players' PlayStation or EA ID to directly add valuable Icon Moments cards like Ruud Gullit and the Brazilian Ronaldo to their in-game account – something a normal player could not do.
Following the allegations, the hashtag #EAGate started trending on Wednesday.
On Wednesday, EA released a statement claiming it was investigating the claims, and overnight it provided an update on how this work was progressing.
In a lengthy statement, the publisher conceded that "it appears that one or more EA accounts, which were either compromised or being used inappropriately by someone within EA," granted items to individual accounts that weren't earned through gameplay or the transfer market.
EA said it would take action against "any employee found to have been engaging in this activity." Any items granted will be removed from the FUT ecosystem, it claimed, and any player known to have acquired content through these means will be banned.
EA's statement went on to state that it was "angry" about the alleged activities and said that it appreciated how "extremely annoying and frustrating" it was for players that this might have come from within the publisher itself.
"The alleged behavior is unacceptable and in no way do we condone granting or purchasing player items in exchange for money," it said.
"This practice runs counter to the game's competitive integrity, is a violation of EA's User Agreement, and is not something we tolerate.  We do not allow the trade or sale of items outside our game for many reasons, including that it would create an unequal playing field for our community."
The company added: "Our initial investigation shows questionable activity involving a very small number of accounts and items. Although it is not a large number, if these allegations prove out, this activity is unacceptable."
Later in the statement, EA apologised for the impact of these "improper grants" within the community.
"We also appreciate how extremely annoying and frustrating it is that this practice might have come from within EA," it said. We're angry too. We know that the trust of our communities is hard-earned, and is based on principles of Fair Play.  This illicit activity shakes that trust.
"We've also been clear since the creation of Ultimate Team that items cannot be exchanged outside our game, and that's key to how we keep our game safe from manipulation and bad actors. This is a breach of that principle, as well — and we won't let it stand."
Some FIFA fans were confused as to why it was possible to award FUT players in the first place, considering that the game mode – and its professional eSports league – depends so much on its player economy.
On Friday, EA confirmed that it granted FUT content "all the time" and explained the circumstances under which it did.
Firstly, it said its support teams often needed to replace content accidentally deleted by players. Secondly, It claimed it sometimes granted content for testing purposes, and finally, it said it occasionally liked to "recognize contributions" by Pro Footballers, celebrity partners and employees by gifting FUT player cards.
"The items granted on a discretionary basis to these partners or employees are always non-tradeable and can be used only by the account to which they were originally granted," it said. As a precaution, all discretionary content granting has been suspended for an indefinite period, it added.