Ancestors: The Humankind Odyssey dated for consoles
Panache Digital's debut game hits PS4 and Xbox One in December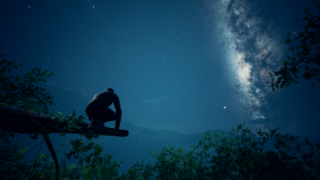 Ancestors: The Humankind Odyssey will be released digitally for PS4 and Xbox One on December 6, publisher Private Division has announced.
Priced at £32.99/€39.99/$39.99, the game's now available to pre-order on the PlayStation Store and the Microsoft Store.
Ancestors is the brainchild of Assassin's Creed creative director Patrice Désilets, the co-founder of developer Panache Digital Games.
The third-person open world survival title takes place during the early stages of human evolution and tasks players with surviving the harsh environments and dangerous creatures of the time.
"Hostile predators such as sabre-toothed tigers, environmental threats such as steep cliffs, and even potential poisonous food can lead to a swift death," says Private Division. "Only through careful discovery of the surrounding world will the player ever have a chance to survive."
The PC version of Ancestors released in August 2019 exclusively via the Epic Games Store. It has a Metascore of 64 on review aggregation site Metacritic, based on 70 reviews, although Désilets recently claimed some reviewers didn't play the game, and even invented non-existent features, according to VG247.
Désilets, who left Ubisoft Montreal twice in far from amicable circumstances, told VGC earlier this year that Panache Digital was founded with the goal of creating game IP that remains in Canada, rather than with a foreign-backed company.