An orchestra's Kirby cover song just won a Grammy
The 8-Bit Big Band was awarded Best Arrangement, Instrumental or A Cappella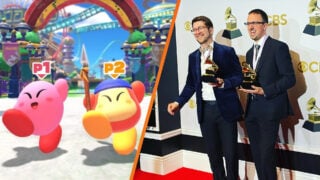 An orchestra won a Grammy on Sunday for its cover of a song from Nintendo's Kirby series.
The 8-Bit Big Band is a 30-65 member Jazz/Pops orchestra based in New York City, who cover musical themes from various video games.
In 2018 it released its first album "Press Start!" which features music from the Super Mario, Zelda, Ganbare Goemon, F-Zero, and Final Fantasy series. Its second album, "Choose Your Character", followed in 2019 with covers of music from Portal, Sonic, Donkey Kong Country and more.
On Sunday, Big Band's cover of Meta Knight's Revenge from 1996 SNES title Kirby Superstar won the Grammy award for Best Arrangement, Instrumental or A Cappella.
Co-arranger Charlie Rosen wrote on Twitter: "HOLY SHIT WE WON THE GRAMMY!! LONG LIVE VIDEO GAME MUSIC!!"
Rosen's fellow arranger Jake Silverman, added: "I want to thank my parents, I want to thank [Kirby composer] Jun Ishikawa… I grew up with his music. It's such an honour to be here. Thank you."
Kirby creator Masahiro Sakurai reacted to the win, tweeting: "How is that possible? I'm surprised."
It's not the first time music from a video game has appeared at the Grammys. In 2011, a song from Civilization IV won the Best Instrumental Arrangement Accompanying Vocalists, marking the first time a video game song had been nominated or won in any category.
The following year, Journey became the first full video game score to be nominated via the Best Score Soundtrack for Visual Media category.
The latest Grammy win coincides with Nintendo's latest Kirby game, The Forgotten Land, which was released for Nintendo Switch last month.
Kirby and the Forgotten Land has received widespread critical acclaim, with a current score of 85 on review aggregation site Metacritic.
VGC's Kirby and the Forgotten Land review called it "another accomplished charmer from HAL's inhalatory hero," adding: "The platforming won't give Mario any restless nights, but the exuberant creativity around it makes for a bold, buoyant adventure."
In a recent interview on Nintendo's own website, Kirby and the Forgotten Land general director Shinya Kumazaki explained how it took HAL Laboratory and Nintendo around 20 years to make a 3D Kirby game.
Related Products
Other Products
Some external links on this page are affiliate links, if you click on our affiliate links and make a purchase we might receive a commission.