An open-world Harry Potter RPG is reportedly on track for release in 2021
Avalanche Software said to be developing the game for platforms including PS5 and Xbox Series X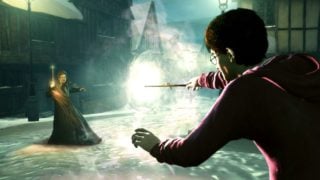 Warner Bros. Interactive Entertainment is reportedly set to release a long-rumoured AAA Harry Potter RPG in 2021.
It's being made by Avalanche Software, which worked on games including Disney Infinity, Toy Story 3 and Cars 3 before being closed when former owner Disney stepped away from game development in 2016.
Next year's Harry Potter game, which is in development for PS5, Xbox Series X and other platforms, will be Avalanche's first release since it was acquired and reopened by Warner in 2017, Bloomberg reports.
People said to be working on the project describe it as an open-world title in which players can explore a large recreation of Hogwarts and surrounding locations.
Prior to the show's cancellation, Warner was reportedly lining up a trio of high-profile reveals for what would have been its first ever E3 conference this month.
These are said to have included the upcoming Harry potter game, a new Batman title, and the next project from Batman Arkham developer Rocksteady Studios, which may be a Suicide Squad game.
Warner will hold a DC-focused digital event called DC FanDome in August, where it plans to make new announcements from its games, film and TV, and comics divisions.
Bloomberg claims Warner intends to reveal the Batman game at DC FanDome and the Harry Potter title at a later date.
Warner Bros. Interactive Entertainment, which also owns Rocksteady and Mortal Kombat developer NetherRealm, is reportedly up for sale.
According to CNBC, Take-Two, Electronic Arts and Activision Blizzard have all expressed interest in buying the gaming division from Warner's parent company AT&T in a deal that could fetch around $4 billion.
If a sale were to go through, many of the Warner Bros. IP tied to in-development games, such as Harry Potter and Batman, would not be part of the acquisition but could be licensed, the publication's sources said.