An hour of footage of Arkane's cancelled Half-Life game has been released
The Dishonored studio's Half-Life spin-off, 'Ravenholm', never saw the light of day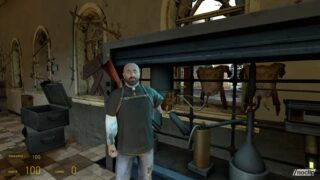 Video game documentaries producer Noclip has released an hour of footage of 'Ravenholm', a cancelled Half-Life game from Arkane Studios.
The studio best known for the Dishonored series and most recently for Deathloop was reportedly given free creative rein with the Half-Life spin-off's story, setting and characters, but Ravenholm was cancelled before these were finalised.
Recorded as part of a wider documentary on the history of Arkane, the gameplay footage below wasn't originally created with public consumption in mind.
"The build you're about to see had been put together near the end of development to try and show Valve the progress the team at Arkane had made," says Noclip's Danny O'Dwyer.
"But it's important to understand that everything you're about to see is from an incomplete game, meaning that a lot of stuff is going to be missing and even much of the content that's here is either an early pass or a placeholder, so elements like art, animations, gameplay, level designs, even voicework, were likely to go through further changes."
The gameplay showcase is interspersed with critical context and additional information which was provided to Noclip by Arkane Lyon's art director Sebastien Mitton, who worked on the project.
Half-Life Alyx, the first new entry in the series for nearly 13 years, was released in March 2020 exclusively for PC-based VR hardware.
VGC's Half-Life: Alyx review called the shooter "a stunning return for Half-Life and an essential VR purchase – if you have the required equipment and space."
In an interview with 1 NEWS last year, Valve co-founder and CEO Gabe Newell confirmed the company had multiple games in development and that it was keen to make more single-player experiences.
However, he refused to be drawn on the subject of new Half-Life and Portal games when questioned about potential sequels.
"I've successfully not spoken about those things for a long time and I hope to continue to not talk about them until they are moot questions," Newell said. "Then we'll move on to a new set of questions.
"The nice thing is, by not answering those questions, I avoid the community coming up with new, equally-difficult-to-answer questions."
Related Products
Other Products
Some external links on this page are affiliate links, if you click on our affiliate links and make a purchase we might receive a commission.