EA says it's investigating claims an employee has been caught selling rare FUT cards
FIFA 21 Icon cards may have been sold in bundles costing over $1,000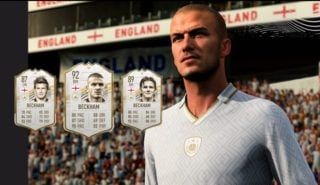 This article was updated at 21:10 GMT following comment from EA.
Electronic Arts says it's investigating allegations that one of its employees has been selling rare FIFA Ultimate Team (FUT) cards for cash.
An EA spokesperson told VGC that it "in no way condoned" what is alleged to have happened and understood "how this creates concern about unfair balance in the game and competition."
According to unconfirmed reports, the employee sold FIFA 21 Icon and Team of the Year cards in packages costing in excess of €1,000 ($1,191).
Messages claiming to show a conversation in which an EA employee discusses selling FUT cards for real cash can be seen in the tweet below from FUTArcade.
In the messages, the alleged EA employee explains to the potential customer that players are paying people thousands of dollars just to list valuable Icon Moments cards like Ruud Gullit and the Brazilian Ronaldo on the transfer market, so they can then be bought with in-game Coins.
They go on to explain that the packs they're selling are available in two versions: one containing three Icons for €750 ($893), and one with three Icons and two Team of the Year players for €1,000 ($1,191).
It appears that the employee is offering to use the customer's PlayStation or EA ID to directly add the packs to their in-game account.
Following the allegations, the hashtag #EAGate started trending on Wednesday.
FIFA 21 streamer Nick28T also posted images and video footage which may offer further evidence of an EA employee selling rare FUT cards for real world money.
Icon Moments and Team of the Year cards are among the rarest in FIFA 21. Icons give players classic legends in their team, ranging from Pele and Maradona to Kenny Dalglish and Eric Cantona. Icon Moments are even rarer versions of these, with boosted stats.
Team of the Year players, meanwhile, are a special group of cards that were released in January and contain the best players from 2020, all with heavily boosted stats.
In a statement, EA told VGC: "We are aware of the allegations currently circulating within our community related to FIFA21 Ultimate Team items.
"A thorough investigation is underway, and if we identify improper conduct, we will take swift action.
"We want to be clear – this type of behavior is unacceptable, and we in no way condone what is alleged to have happened here.  We understand how this creates concern about unfair balance in the game and competition.  We will update the community as we get more clarity on the situation."