Among Us developers accuse Fortnite of plagiarism
The new Impostor mode strongly resembles the popular indie game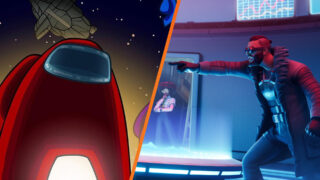 Members of the Among Us development team have publicly noted the similarities between their game and Fortnite's latest mode.
The new Impostors mode, which was announced yesterday and is available to play now, has been gaining attention for using a number of ideas previously seen in Among Us.
The mode is set in a large multi-roomed environment called The Bridge, and is played by 10 players – 8 agents maintaining the bridge and 2 'Impostors' who have to destroy it.
Agents have to perform tasks while the Impostors have to try to kill them without being identified. Players then come together to have discussions about who the Impostors may be, and then choose to vote them out.
Among Us programmer Gary Porter took to Twitter to point out the similarities between the Impostors mode's map and The Skeld, the original Among Us map.
"It's okay though," he added sarcastically, "they flipped Electrical and Medbay and connected Security to Cafeteria.
"I wasn't even around for the development of Skeld and I'm still kind of offended. Anyway that's my piece on the whole thing."
Twitter user Stephen Parker modified Porter's comparison images to show how similar the two games' maps are, by drawing coloured lines that show how each of the rooms are connected.
"It's not 'obvious', the room might have different points but you can't look at this and think it's totally different," he tweeted.
"Here is the thing, we don't have problem with adding mechanics/gameplay that is similar to other games, [the] industry has done it all the time. The concept of Among Us is not new either, it's Werewolf/Mafia. But what we have problem with is how Epic does that," he added.
Among Us community director Victoria Tran also expressed her disappointment, tweeting: "It would've been really, really to collab[orate], haha. Just sad indie hours [right now].
"Like, game mechanics fine, those shouldn't be gatekept, but at the very least even different themes or terminology makes things more interesting?"
She added that "it hits so weirdly personal because it feels exactly like being a woman/POC in tech. It feels like a powerless 'lol what's the point anymore' of making our own stories/content."
This is not the first time Fortnite has been accused of borrowing ideas. The developers of the game's hugely successful Battle Royale mode have openly stated that the team took inspiration from other battle royale games, in particular PlayerUnknown's Battlegrounds.
"We love Battle Royale games like PUBG and thought Fortnite would make a great foundation for our own version," creative director Donald Mustard told PC Gamer back in 2017 shortly before the mode launched.