Amnesia: The Dark Descent and Crashlands are now free on Epic Games Store
They'll be replaced by puzzle game Death Coming next week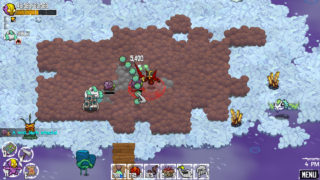 Amnesia: The Dark Descent and Crashlands are now free to download from the Epic Games Store.
Normally priced at £14.99, Frictional Games' Amnesia: The Dark Descent is a first-person survival horror game with a Metascore of 88 on review aggregation site Metacritic, based on 44 reviews.
Frictional announced in March that a sequel, Amnesia: Rebirth, will be released for PC and PS4 this autumn.
Released in 2016, Butterscotch Shenanigans' Crashlands is a story-driven crafting ARPG with a Metascore of 78 based on 10 reviews. It usually costs £11.39 on the Epic Games Store.
Both games will be free to download until May 7, when they'll be replaced by Next Studios' puzzle game Death Coming.
Free titles on the Epic Games Store will now "periodically" require that two-factor authentication be activated on users' accounts before they're able to be claimed.
"We understand that this is a minor inconvenience for some, but we want to provide the best possible solutions to protect your Epic account," the company said this week.
The Epic Games Store's weekly free game promotion, which launched alongside the storefront in December 2018, will run throughout 2020.