American McGee wants to make another Alice game with EA
The game designer is "ready" to start work on his planned third entry, Alice: Asylum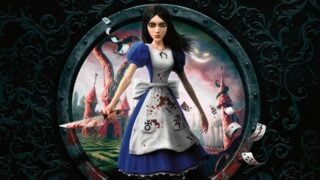 Game designer American McGee says he hopes EA will ask him to make the third game in the Alice series one day.
Posting on Twitter after the announcement of a Dead Space remake, McGee said he hoped that by taking Dead Space off the table of potential IP revivals, Alice would be more likely to make a comeback.
"While I (and Alice fans) would have liked the next EA horror project to be a new Alice game, this does at least move us forward in line," he claimed.
"At some point in the future, execs at EA will shout 'need moar product!' and someone will reply, "Alice?" And we'll be ready!"
McGee's career started at id Software, where he was a level designer on numerous games in the Doom and Quake series.
After leaving id he joined Electronic Arts and became creative director of American McGee's Alice, a dark and violent take on the Alice's Adventures in Wonderland novels released in 2000.
In McGee's game, Alice's family die in a house fire. Five years later, while lying comatose in a psychiatric clinic, Alice mentally returns to Wonderland, which has been made to look surreal and disfigured by her mind.
The 2011 sequel Alice: Madness Returns saw Alice discharged from the clinic and living in a home for mentally traumatised orphans. Continuing to suffer hallucinations of Wonderland, she enters it again to face a new evil and find out more about her past.
According to McGee, a third game titled Alice: Asylum has already been outlined and will span Alice's past, present and future. In a Patreon page for the project, McGee states: "My goal is to build a production/design plan, have that plan approved by EA, and then raise funding to develop a new game."