Amazon's New World beta has topped 200,000 concurrent players
The upcoming MMO is also the best-selling game on Steam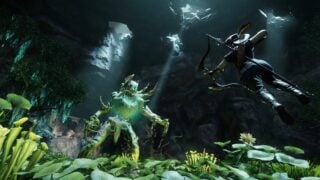 Amazon Games' New World is attracting significant interest, with the MMO's closed beta topping 200,000 concurrent players on Steam over the weekend.
According to SteamDB, the game hit a peak of 200,856 concurrent players on July 25, making it the sixth most popular title on Valve's platform on Sunday.
The beta, which runs until August 2, has attracted at least 148,000 concurrent players on Steam every day since its July 20 launch.
Players can still register to participate in the beta, which is also available to customers who pre-order the game.
Twitch owner Amazon is hoping New World, which has been delayed on three occasions, will prove to be its first hit game.
Development of the company's team-based shooter Crucible officially ceased in October 2020, just five months after the game's launch, following its struggle to attract a significant player base.
More recently Amazon cancelled a Lord of the Rings MMO, reportedly because of a dispute with Tencent, the parent company of the title's co-developer Athlon Games.
Priced at £34.99 and set for release on August 31, New World is currently the best-selling game on Steam, ahead of recent releases F1 2021 and Mini Motorways.
New World closed beta features:
Expeditions: 5-player instanced dungeons that take players into the farthest corners and deepest depths of Aeternum, where they'll face deadly foes and uncover truths about the island.
War: Epic siege warfare on a massive scale, with up to 100 players on the battlefield at once. The outcome of each war determines which company controls contested territory or settlements—and the resources they contain.
Outpost Rush: Teams of 20 players from two competing factions fight for control of fortifications and resources in this max-level instanced game mode that combines PvE and PvP play.
Invasions: Twisted armies of Aeternum muster their forces to assault player-controlled territory, and groups of 50 max-level players rally together to fight of waves of monsters.