Amazon has revealed its competitive shooter Crucible
Free-to-play title will release this month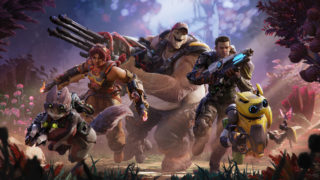 Amazon Games has announced Crucible, its free-to-play, team-based shooter for PC, set for release via Steam on May 20.
Crucible is the Twitch owner's first big stride into game software, as part of what is said to be an investment of "hundreds of millions of dollars" into game creation.
The game combines competitive shooter and PvE elements. Players choose from a roster of aliens, robots, and humans, and work with teammates to hunt opponents, take down hostile creatures, and capture objectives, all on a rogue planet at the edge of known space.
In addition, players much pursue 'Essence', a resource that amplifies their hunters' powers and enhances their abilities.
Three game modes will be available at launch this month:
Heart of the Hives (4 vs. 4): The first team to take down massive bosses and capture three of their "hearts" wins
Alpha Hunters (8 teams of 2): Pairs of hunters fight to be the final team standing
Harvester Command (8 vs. 8): Teams earn points by capturing and holding Essence Harvesters—the first team to 100 wins
"In Crucible, every match is different, and players' choices really matter," said Christoph Hartmann, vice president at Amazon Games, in a prepared statement.
"Every opponent, team, and mode poses unique dangers, and no two matches are the same, so players must constantly adapt to everything the world and the other teams throw at them. We're excited for players to join the hunt in just a couple of weeks, and we can't wait to hear what they think of it."
Crucible is being developed by Relentless Studios, a Seattle-based development team of Amazon Games.
The studio is led by Louis Castle, co-founder of Westwood Studios, and includes industry veterans with previous experience at companies including Activision Blizzard, ArenaNet, Electronic Arts, and Xbox.
Crucible will be the first of two major titles from Amazon Games in 2020, the company said, followed by the launch of MMO New World in August 2020.
According to reports, the corporation is also preparing to launch its own cloud gaming platform codenamed Project Tempo, which is now expected in 2021 due to the coronavirus pandemic.