Amazon denies claims its New World beta is bricking RTX 3090 graphics cards
Numerous users claim the game "fried" their RTX 3090 cards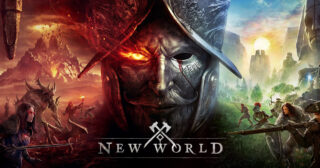 Amazon has denied claims that the closed beta for its upcoming MMORPG New World is bricking some players' graphics cards.
Players started claiming yesterday that their graphics cards were becoming completely broken while playing the game, with all players reporting the issue using RTX 3090 cards.
It appears that almost all of the bricking incidents have occurred specifically with EVGA RTX 3090 cards, but players with other brands of RTX 3090 have also been reporting extreme overheating and dangerous levels of power consumption, according to a thread in the game's subreddit which now has over 1200 replies.
One theory as to why this was happening was based on the game's uncapped framerate, with one player noting that capping the frame rate to 60fps helped bring their CPU and GPU temperature down to a level in line with other graphically intensive games.
In a statement to VGC, Amazon Games stated that it was unaware of any specific issues and is adamant the game is safe to play.
"Hundreds of thousands of people played in the New World Closed Beta yesterday, with millions of total hours played," the statement reads.
"We've received a few reports of players using high-performance graphics cards experiencing hardware failure when playing New World.
"New World makes standard DirectX calls as provided by the Windows API. We have seen no indication of widespread issues with 3090s, either in the beta or during our many months of alpha testing.
"The New World Closed Beta is safe to play. In order to further reassure players, we will implement a patch today that caps frames per second on our menu screen. We're grateful for the support New World is receiving from players around the world, and will keep listening to their feedback throughout Beta and beyond."
New World is an MMORPG developed by Amazon Games Orange County, and is set to release on August 31. The game will be 'buy-to-play', rather than having a regular paid subscription.