Alien Isolation's mobile spiritual successor Alien: Blackout is being delisted
The game will remain available to buy until the end of the month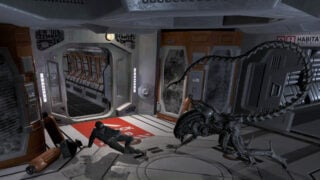 Alien: Blackout, the mobile spiritual successor to Alien Isolation, is being delisted.
Blackout was released on iOS and Android in January 2019 and follows on from the events of Alien Isolation, with players once again taking control of Ellen Ripley's daughter Amanda.
Set in a control room, the player's aim is to guide four crew members through a Weyland-Yutani research station by directing them through the station and away from the Xenomorph roaming its corridors.
Occasionally the Xenomorph will come to Amanda's control room, meaning the player has to cut power to the room and seal the door (similar to Five Nights at Freddy's).
However, in a statement made on the game's official Twitter account, it has been announced that the game will be delisted on October 31. Until then, it remains available on the iOS App Store and Google Play Store for $0.99.
"We have made the hard decision to sunset Alien: Blackout," the statement reads.
"To allow all of our players ample time to finalise their adventures, Alien: Blackout will remain available on the App Store, Google Play, and Amazon store for the next 30 days, sunsetting on October 31, 2023.
"After October 31, 2023, all development and support for this game will cease and the game will no longer be available on the App Store, Google Play, or Amazon store, but will remain playable for anyone that purchased before the sunset date.
"We want to thank all our players and teams for joining us on this thrilling adventure."
Alien: Blackout had a shaky start when online teases had led fans to believe it was going to be an MMO shooter, instead of a mobile game.
Despite featuring Amanda Ripley and being set just days after the events of Alien Isolation, publisher FoxNext stated shortly after the announcement that it wasn't an official sequel to Isolation.