2007 run-and-gun classic Alien Hominid HD is coming to most modern platforms
But it won't be available on PlayStation consoles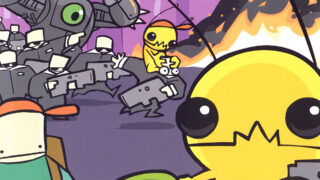 Alien Hominid HD will be coming to most modern platforms, developer The Behemoth has announced.
The classic run-and-gun game was originally released on entertainment website Newgrounds as a Flash game back in 2002, before being ported to the PS2, Xbox and GameCube in 2004, and the Game Boy Advance in 2006.
An HD version was then released on the Xbox 360 in 2007, and this version is still the only way to play it on modern systems to date (via Xbox backwards compatibility).
In a blog post, The Behemoth stated that it planned to remedy this by releasing Alien Hominid HD on Xbox Series X/S, Xbox One, Switch and Steam.
The game will be released later this year alongside Alien Hominid Invasion, an "all-new re-imagination" of Alien Hominid with new gameplay and new mechanics. This is planned for release on Xbox One, Switch and PC.
"Adding to the excitement," The Behemoth said, "the newly-ported and polished Alien Hominid HD will be available to purchase in a bundle with Invasion, saving you some hard-earned lunch money in the process.
"When can you get your hands on the individual games, or the bundle, you may ask? Well, we haven't announced a release date yet, so prepare yourself for another announcement coming soon."
Neither Alien Hominid HD nor Invasion will be coming to PlayStation platforms. Back in 2020, shortly after Invasion was announced, The Behemoth claimed on its Twitter account that it was too much work to port to too many systems at launch.
"Alien Hominid Invasion won't be coming to the PS4 at launch, unfortunately," it said at the time. "It's a ton of work to come to even three platforms at launch, and this is the first time we're attempting it."
Alien Hominid was designed as an homage to run-and-gun games like Metal Slug, and stars a yellow alien who has to kill an endless wave of Secret Agents trying to capture him.
The game was critically acclaimed not only for its solid gameplay, but for its impressive animations and comically graphic deaths, including the ability to bite enemies' heads off.
Related Products
Other Products
Some external links on this page are affiliate links, if you click on our affiliate links and make a purchase we might receive a commission.