Alex Scott will be FIFA's first English-speaking female commentator
The presenter will provide goal commentary in FIFA 22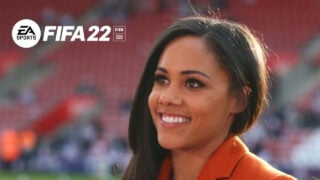 TV presenter and former Arsenal player Alex Scott will be the first English-speaking female commentator in the FIFA series.
Scott will join FIFA 22's commentary team alongside Derek Rae and Stewart Robson (who replaces FIFA 21's Lee Dixon).
Scott's role was highlighted in a presentation shown to VGC last week. During league games, Scott will interrupt the commentary to give news on goals being scored in other matches being played at the same time.
Scott shared the news on Twitter last night, where she stated: "This is a big moment for FIFA, for football and women and girls across the world."
She added: "Whilst I am the first English-speaking female broadcaster to feature in FIFA, I will certainly not be the last.
"I know this is just the start of stronger female footballing representation from EA Sports and the football community as a whole."
Although Scott is the first English-language female commentator in FIFA, she missed out on being the first female commentator overall by a year.
FIFA 21's Spanish commentary team included Gol Television presenter and reporter Nira Juanra, making her the first female commentator in the series' 29-year history.
EA Sports released the first trailer for FIFA 22 earlier this month, confirming an October 1 release date.
The game will make use of what EA is calling HyperMotion technology, which uses machine learning to create bespoke player animations on the fly.
In VGC's hands-on with the game, we said: "if HyperMotion can fulfil its potential and completely transform the in-betweening process for player animations, there's every chance that FIFA 22 could be the most satisfying game in the series to date."