Alan Wake's American Nightmare and Observer are the next free Epic Games store titles
They'll replace Surviving Mars, which is now free on the Epic Games store until October 17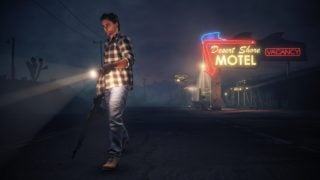 Alan Wake's American Nightmare and Observer will be the next free Epic Games store titles.
They'll replace Surviving Mars and its Space Race DLC, which are now free to download from the Epic Games store until October 17, after which the base game will cost $29.99.
Released in March 2018, Surviving Mars is a sci-fi city builder about colonising and surviving on the red planet from Haemimont Games, the studio behind Tropico 3-5. The PC version has a Metascore of 76 based on 39 reviews.
Paradox Interactive announced Surviving the Aftermath, a post-apocalyptic follow-up to Surviving Mars, on Monday. It will launch this year via Early Access on the Epic Games store and Xbox Game Preview, ahead of its full release (also for Steam and PS4) in late 2020.
The next free games to hit the Epic Games store, Alan Wake's American Nightmare and Observer, a psychological horror title starring Rutger Hauer, will be available at no cost from October 17-24.
Epic originally launched a bi-monthly free game offer alongside its PC storefront in December 2018 but said in mid-May that it was increasing the frequency of the offer to one free game per week until the end of 2019.
Titles offered for free have included Alan Wake, For Honor, Limbo, This War of Mine, Overcooked, World of Goo, Transistor, The Witness, Hyper Light Drifter, Fez, Inside, Celeste, Metro 2033 Redux and Minit.
Epic recently extended Fortnite season X and the game's Batman crossover event by a week until October 13.