Alan Wake 2 is now 'playable from start to finish', Remedy says
The studio also notes that Alan Wake Remastered has yet to generate royalties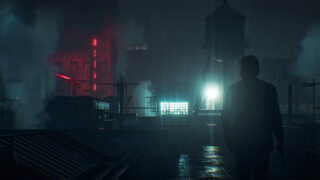 Development of Alan Wake 2 has reached the stage where the game can be played from start to finish, Remedy has stated.
In comments made following the publication of the studio's latest financial results, CEO Tero Virtala said that development on the sequel was going well.
"Alan Wake 2 is in full production," Virtala explained. "The game will soon have all content in place, and it is playable from start to finish.
"We will then move onto polishing the experience. Alan Wake is a unique brand that holds high value for the company today."
Virtala also noted that Alan Wake Remastered, which was released in October 2021, has failed to generate royalties for the studio, but says he hopes Alan Wake 2 will boost sales.
"Alan Wake Remastered has not yet generated royalties," he said. "However, we expect the sales to increase as the release of Alan Wake 2 becomes imminent and fans and new players want to experience the original story on new generation consoles."
Alan Wake 2 was announced during The Game Awards in 2021. The reveal trailer showed off Alan in various locations including the wilderness and New York City.
At the time of its announcement, Remedy creative director Sam Lake said the game will be a "survival horror", but noted that the game would "go dark" for some time before new information is revealed.
In an update in May 2022, Lake said development was "going really well", adding: "We are deep in production, have a lot of material, and a great deal of the game is playable."
Explaining the studio's decision not to show any of the game last summer, Lake said: "We feel that we have momentum going, and we want to make sure we are creating the best, and first, survival horror game for Remedy.
"We don't want to take the team away from that focus, so we're going to keep going and making a great game experience, and unfortunately, you'll have to wait a bit longer for a demo and trailer."
Related Products
Other Products
Some external links on this page are affiliate links, if you click on our affiliate links and make a purchase we might receive a commission.