After just 14 months, Square Enix is closing Final Fantasy 7's battle royale
The First Soldier is the second high-profile Square Enix live service game to close in a year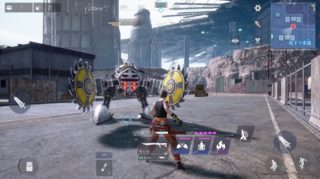 Square Enix has announced that its mobile battle royale game based on Final Fantasy VII is being shut down.
Final Fantasy VII: The First Soldier was released on iOS and Android on November 17, 2021.
However, the game will end on January 11, 2023, after less than 14 months.
A statement posted on social media claimed the decision was made because it's developers "haven't been able to deliver the experience that we were hoping to".
CRISIS CORE –FINAL FANTASY VII– REUNION | Launch Date Trailer
"It is with a heavy heart that we are announcing the end of service for Final Fantasy VII The First Soldier," it reads. "We will be ending service at 07:00 UTC on January 11, 2023."
"Despite all our efforts to bring you regular updates with fresh and exciting content, we haven't been able to deliver the experience that we were hoping to – and that you all deserve – so we have made the extremely tough decision to end service for Final Fantasy VII The First Soldier".
"We would like to thank you all for supporting us over the past year. Although there are only a little less than three months until service ends, we will continue to make updates during this time, so we hope you will continue to enjoy Final Fantasy VII The First Soldier until the very end."
The game's shop is no longer selling Shinra Credits (the premium currency), though anyone with Shinra credits can still use them until the game ends.
Support for non-English languages will then end on November 1, 2022 before the entire game shuts down on January 11, 2023.
The First Soldier is the second notable Square Enix live service game to close in the last year.
The publisher's troubled online brawler Babylon's Fall will officially end service in February 2023, after only launching on March 3, 2022.
Babylon's Fall was widely panned by critics at launch and, according to review aggregator Metacritic, is one of the worst games of the year.
In a statement posted last month on the PlatinumGames-developed title's official website, Square Enix confirmed that the game will shut down and that the "large-scale update" that was planned for it has been cancelled.
Speaking to VGC in an interview earlier this month, PlatinumGames CEO Atsushi Inaba commented publicly for the first time since the closure news, stating that the developer was "extremely sorry" for any disappointment it might have caused its fans.
Inaba claimed that restrictions around the publishing arrangement prevented him from commenting in detail on Babylon's Fall. However, he claimed that Platinum had learned from the experience and insisted it hadn't altered the Bayonetta studio's plans to make more live service games in the future.
Related Products
Some external links on this page are affiliate links, if you click on our affiliate links and make a purchase we might receive a commission.