AEW Fight Forever will reportedly release in June
An announcement is expected in the coming days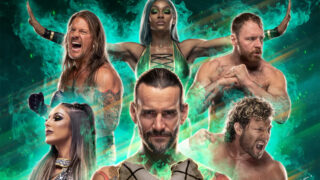 AEW: Fight Forever will reportedly release in June.
According to Fightful Select, an official announcement is expected next week, with AEW expected to announce that the game will release on June 27, which would coincide with AEW x NJPW Forbidden Door 2, which will take place two days prior on June 25.
It's also been suggested that the announcement has been delayed due to the prominence and inclusion of AEW wrestler CM Punk (real name Phil Brooks), whose off-screen issues with AEW have seemingly upended several AEW-related announcements which are planned to feature the return of Punk.
Earlier this year there were conflicting statements from THQ Nordic's global senior community manager and AEW president Tony Khan regarding the game's status.
After being shown a tweet saying, "the AEW Fight Forever video game is basically ready", THQ's Per Hollenbo replied: "I mean, if you want an unfinished game, sure, we could release now."
He added: "The game is doing really well and is getting there, but not 100% yet, so yeah, just another rumour on Twitter I fear."
When followers started to wonder why some were claiming it was ready, Hollenbo explained: "There are tons of things to take into consideration when developing a game – submission, QA, loca[lisation], ratings, optimization, polish, coding and much more.
"So even if a game looks finished to some people, if it missed one of those steps it isn't finished or ready to release."
In June last year, AEW star Kenny Omega said he hoped the game was on schedule to release in 2022. When this was clearly no longer possible, the game was then set for release in February 2023.
In February, Omega – who has played a large part in bringing the game to life – claimed it had been delayed further because some of the game's content "had to be scaled back" to meet the desired ESRB rating of Teen.