Aeon Must Die mysteriously returns a year after devs' IP theft and 'endless crunch' allegations
Limestone Games' beat 'em up seemed to be in limbo following a mass exodus of staff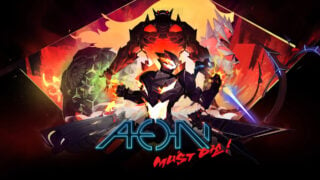 Beat 'em up Aeon Must Die has seemingly returned, despite controversial accusations of IP theft by members of its development team last year.
Last year, eight members of the game's development team quit, citing harassment, abuse and "endless crunch" at the hands of developer Limestone Games.
The controversy caused publisher Focus Home Interactive to release a statement saying it was looking into the allegations, but for the past year nothing has been said about the game.
Today, however, the game's reveal trailer from last year was posted again on Focus Home Interactive's YouTube channel, raising questions over the return of a game that was seemingly in limbo due to studio turmoil.
Aeon Must Die was one of the games shown off at PlayStation's State of Play presentation in August 2020, but shortly after its debut a YouTube account called Erkki Poots reposted the trailer, claiming the game "was created with abuse, manipulation [and] theft".
Poots' description included a link to a Dropbox folder containing a large number of files provided as 'evidence', and making a number of serious allegations about developer Limestone Games.
The folder included a statement claiming that eight members of Limestone's creative team was forced to leave due to "unbearable work conditions with endless crunch, harassment, abuse, corruption, and manipulation".
It also claimed "the company and the entire IP was covertly taken from the founder", and alleged that the trailer shown during Sony's State of Play was "infringing on the IP of people who have worked on scenes from it without contract and were not paid at any point".
At the time, publisher Focus Home Interactive tweeted a statement on the situation, stating that it had been made aware of the allegations.
"As the publisher of this video game, Focus is carefully looking into these allegations and will draw the necessary conclusions if they are proved to be well-founded, and then take all appropriate measures," the statement said.
The re-upload of the trailer today, a year after the original controversy, suggests that Focus Home Interactive is now happy to release the game, with its description stating that "Aeon Must Die!, the stylish beat 'em-up is launching on PlayStation 4, Xbox One, Nintendo Switch and PC in 2021″.
VGC has contacted Focus Home Interactive for comment on the situation.