Advance Wars reboot director says he wants to make a new Kuru Kuru Kururin or Chibi Robo
WayForward's James Montagna also says Rhythm Heaven and WarioWare are dream projects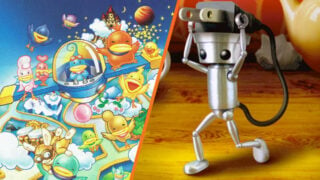 The director of the recently released Advance Wars 1+2: Re-Boot Camp says he'd like to make a game based on classic GBA title Kuru Kuru Kururin.
In a video interview with MinnMax, WayForward's James Montagna was asked which other Nintendo properties he'd like to work on.
"Well, Kuru Kuru Kururin is up there," Montagna replied. "I would say it's probably number one."
When asked why he'd choose that above Zelda or Mario, he replied: "The thing about games like Zelda and Mario [is] they do them so well, I'm happy to see them keep doing it.
"I'd love to work on something obscure, you know? So for me I think about games like Kuru Kuru Kururin, I think of games like Rhythm Heaven [and] WarioWare.
"There's also things like Chibi Robo – that would be interesting to explore."
Kuru Kuru Kururin is an action puzzle game which was released on the Game Boy Advance in Japan and Europe (and was a launch title in the latter).
The game has players controlling a slowly rotating stick called the Helirin, and has to guide it through a series of mazes without hitting walls or obstacles.
The game was one of the first six games included in the Game Boy Advance library on Switch Online, which was added in February.
Players can access a series of Game Boy and Game Boy Color titles with a Nintendo Switch Online subscription, and can then access a further library of Game Boy Advance games with an Expansion Pack tier subscription.
Advance Wars 1+2: Re-Boot Camp was originally planned to release in April 2022, but in March 2022 Nintendo announced that it had been delayed indefinitely due to the Russian invasion of Ukraine.
The game was finally released a year later in April 2023. VGC's review called it a "loving recreation of strategy classics".
"Wayforward's generous remake package keeps much of what made the original Game Boys titles great, with some significant improvements to presentation and multiplayer," the review concluded.
Related Products
Other Products
Some external links on this page are affiliate links, if you click on our affiliate links and make a purchase we might receive a commission.