Adele makes custom Rust Halloween costume for her son
"You can't even buy party decorations for Rust"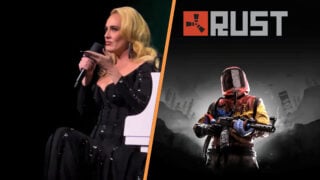 Grammy award-winning singer Adele made a homemade Rust costume for her son for Halloween.
She told the story of her DIY Rust merchandising on stage as part of her long-running residency in Las Vegas.
"Do we have any gamers here, tonight?" she asked the crowd before a few in the audience shouted back.
Rust is a multiplayer survival game, first released on Steam Early Access in 2013. Within the first two weeks of release, the game sold 150,000 copies.
In 2021, developer Facepunch announced that the game had crossed 12.5 million sales.
"He wanted to go as a Rust character trick-or-treating, now that game hasn't been franchised, you can't even buy party decorations from Rust so I had to make a f***ing outfit from scratch," Adele told the audience.
Despite strong sales, Rust hasn't been merchandised beyond collaborations with gaming chair company Secret Labs, and some YouTooz action figures.
"Luckily I'm a wizard on Amazon, I can find anything. So I made this very, very homemade outfit for Halloween. I can't say that he really loved it. It felt very homemade, then I got stressed and he got stressed and we had a bit of an argument that I felt bad about."