Activision takes action against Call of Duty battle royale sharers
At least one player banned after sharing map area they glitched into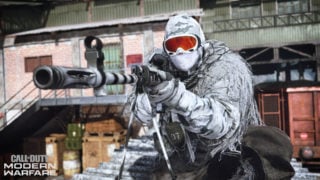 Activision has taken action against a pair of Call of Duty: Modern Warfare content creators as it attempts to suppress leaks of an upcoming battle royale mode.
Players have seemingly been able to glitch into menus and sections of the battle royale mode, which is reportedly called Warzone, since the release of Modern Warfare's Season 2 update on Tuesday.
Creator The Gaming Revolution posted a video of the much-anticipated game mode on Thursday and soon after saw his Twitter account suspended.
The video in question was removed following a copyright strike from Activision.
[UPDATE: The Call of Duty battle royale release date is set for early March, development sources have told VGC.]
[UPDATE 2: Activision has taken action against a Reddit user who allegedly leaked an image of Call of Duty's unannounced battle royale mode.]
Player Dean Carter, who reportedly provided the Warzone footage after being inexplicably teleported into the battle royale map, had his game account banned.
Carter was later able to play Modern Warfare again after seemingly agreeing not to post pictures or videos of the Warzone areas should he encounter them again.
Activision declined to comment when approached by VGC.
Modern Warfare's battle royale mode was first leaked in November last year when a dataminer posted details of the mode on Reddit, since partially verified by the latest game footage.
According to the info, Warzone will feature support for up to 200 players and introduce a new twist on player respawns.
Players will reportedly be able to obtain respawn tokens which place downed teammates in the gulag with other defeated players. Imprisoned players then queue for a chance to respawn into battle by winning a 1v1 duel.
At some point during the match, the gulag will close and no longer be usable, thus preventing respawns, it's claimed.
And in December, a Modern Warfare glitch verified by VGC let players explore locations which look set to be included in the anticipated but still to be confirmed battle royale mode, including a sports stadium and the gulag prison.