Activision is officially suing a popular Call of Duty cheat creator
Publisher says seller has caused "irreparable damage to [our] goodwill and reputation"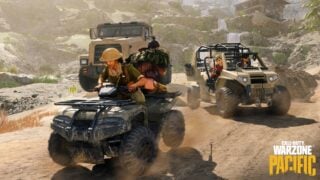 Activision is suing the maker of popular Call of Duty cheats.
The lawsuit against Germany-based EngineOwning, spotted by GamesIndustry.biz, was filed this week and alleges that the company is "engaged in the development, sale, distribution, marketing, and exploitation of a portfolio of malicious cheats and hacks for popular online multiplayer games, most prominently the [Call of Duty] games".
EngineOwning's cheats, according to its website, include auto-aiming, auto-firing, and showing the location of other players, for a price ranging from €4.49 (three-day access) to €139.99 (90 days).
In its lawsuit documents, Activision argues that the cheats have caused it to "suffer massive and irreparable damage to its goodwill and reputation and to lose substantial revenue."
The Pacific Launch Trailer | Call of Duty: Vanguard & Warzone
"Because the COD games are so popular, unscrupulous individuals and companies such as [EngineOwning] frequently seek to exploit the games for their own personal gain and profit by selling cheats, hacks, and other malicious software, knowing full well that they are ruining the experience for other players and harming Activision."
Activision claimed last year that it had issued over 500,000 Warzone permabans since the free-to-play shooter launched in March 2020.
The publisher rolled out Warzone's anti-cheat kernel-level driver globally last month.
The driver, which will be released for Call of Duty: Vanguard at a later date, automatically installs alongside a Warzone Pacific update on Battle.net and is required to play the game on PC.
It "operates with high privileges on your computer, able to access all resources on your system while it is running".
According to an Activision FAQ, this allows the game to detect any anti-cheat software that may be running in the background.