Activision invites influencers to play new Call of Duty
Publisher expected to reveal Infinity Ward's latest series entry soon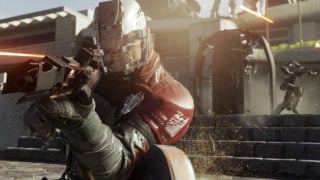 While Activision has yet to officially reveal this year's Call of Duty, it has seemingly kicked off its marketing campaign for the game by inviting influencers to play it and promote it on social media.
As spotted by AGD, several American footballers including Adoree' Jackson, N'Keal Harry and Cody Ford have been tweeting about playing the unannounced game at a recent Activision event, using the hashtag #CallOfDutyPartner.
With the marketing campaign kicking off, it'd be surprising if the game wasn't officially unveiled soon.
Last year's series entry, Treyarch's Call of Duty: Black Ops 4, was announced in early March 2018 ahead of its October release date.
It was the first game in the long-running series not to offer a single-player campaign, instead featuring the franchise's traditional multiplayer gameplay alongside a new battle royale mode.
Activision confirmed in February that 2019's Call of Duty game is being developed by series creator Infinity Ward. It will be the studio's eighth series entry and its first since 2016's Infinite Warfare.
Speaking about the title during an earnings call, Activision president Rob Kostich said (via Seeking Alpha): "It's going to feature an entirely new campaign, a huge and expansive multiplayer world and of course some fun co-op gameplay."
He also said the autumn release "is an amazing game" he thinks will "resonate very powerfully with our community".
This year's Call of Duty game is rumoured to be Modern Warfare 4.