Activision has cut ties with COD's Ghost voice actor following sexist remarks
Footage of Jeff Leach making misogynistic statements has resurfaced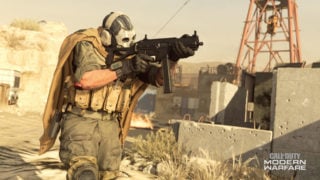 Activision has cut its ties with the voice actor of Call of Duty character Simon 'Ghost' Riley, following a number of sexist remarks.
Jeff Leach voiced Ghost in 2019's Call of Duty: Modern Warfare, but Activision has stated that he is no longer involved with the series after a series of misogynist comments recently resurfaced online.
A Twitter video posted by YouTuber NitroLukeDX showed a montage of sexist comments Leach has made over the years, including a comment he made about Twitch streamer The Zombi Unicorn in 2017 during a live TwinGalaxies show, in which he says that she didn't appear on the show because "she'd actually have to be amusing, she couldn't just rely on her horrendous cleavage".
(The video below contains graphic and misogynist language)
The montage then goes on to show more recent clips, said to be from late 2020, in which Leach is streaming Call of Duty and making some extremely explicit, sexual comments to female players, which VGC has chosen not to quote.
After the montage of comments was tweeted, Call of Duty news site Charlie INTEL contacted Activision, who informed the site that Leach would no longer be working with the company.
"Sexism has no place in our industry, our games or in society," a statement from Activision read. "Activision is no longer working with Jeff Leach.
"We strongly condemn these remarks. We are committed to delivering a fun and safe experience for all players."