Activision 'feels incredibly good' about 2019's Call of Duty
Infinity Ward title likely to be revealed in coming weeks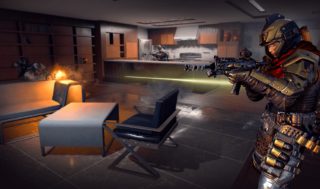 Activision has talked up an "exciting" 2019 instalment for its flagship Call of Duty franchise.
This year's game is in development at series originator Infinity Ward and is thought to be a fourth Modern Warfare instalment.
Read our E3 2019 dates schedule for every conference and live stream date.
Speaking during the publisher's Q1 earnings call, Activision Publishing president Rob Kostich said the next Call of Duty will be unveiled later this quarter, which ends on June 30.
With early marketing for the game seemingly already in progress, it's likely it will be shown publicly in advance of E3 on June 11.
Kostich said: "We feel incredibly good about this year's game from Infinity Ward.
"It will be revealed later this quarter, when it will become clear why we're really excited for this year's release."
Earlier this year, Kostich confirmed that Call of Duty 2019 will feature "an entirely new campaign, a huge and expansive multiplayer world and of course some fun co-op gameplay".
2018's series release, Call of Duty: Black Ops 4, was the first instalment to eschew a campaign in favour of a new battle royale game mode.
Activision also reported strong community interest for Tencent's Call of Duty Mobile, which it claimed has received over 10 million pre-registrations on Google Play.