Activision appoints Call of Duty esports commissioner
Former NFL exec Johanna Faries steps up from head of product role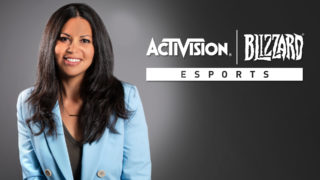 Activision has appointed Johanna Faries as Call of Duty esports commissioner.
The executive joined the publisher as head of Call of Duty esports in October 2018, having previously spent nearly 12 years working for the NFL, most recently as VP of club business development.
In her new role, Faries is charged with overseeing the launch of the city-based, franchised Call of Duty league in 2020.
Seven cities have been announced to date: Atlanta, Dallas, Los Angeles, Minnesota, New York, Paris and Toronto.
In an interview on Activision's blog, Faries explained how her job's set to change following her new appointment.
"During my initial phase on the job, my team's focus was really on setting a new product vision for Call of Duty as a city-based franchised league and to design an experience that we believe can grow to become one of the biggest sports leagues on the planet," she said.
"Now that we have begun to sell franchises to ownership groups all over the world, it's less about going from a white sheet of paper to what we have shaped now, and more about operating and managing this competitive ecosystem in a best-in-class way.
"The role of Commissioner oversees all aspects of those dynamics and the key stakeholders involved in making the system go, so it's a broader platform for management than where we were back in August when the focus was primarily internal-facing and design-driven," Faries added.
Call of Duty: Modern Warfare is set for release on October 25 on PS4, Xbox One and PC.
Last month, Kim Phan left her role as Activision Blizzard's global esports director, reportedly amid low morale at the company.
Phan's departure came hot on the heels of former Overwatch League commissioner Nate Nanzer leaving Activision Blizzard to oversee Fortnite esports at Epic Games.