Activision apologises and removes 'disrespectful Qur'an appearance' from Call of Duty Vanguard
Publisher says it should never have appeared in the game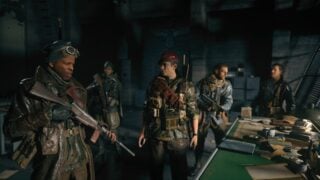 Activision has apologised to the Muslim community for showing the Qu'ran in a disrespectful manner in Call of Duty: Vanguard.
One of the zombie maps shows pages from the holy book lying on the floor, with the phrase "in the name of God, the Most Gracious, the Most Merciful" visible.
Placing the Qu'ran on the floor is considered disrespectful, so the inclusion of the pages led to complaints from some Muslim players.
Now the official Call of Duty Middle East Twitter account has posted an apology saying the content has been removed.
"Call of Duty is made for everyone", the tweet reads in Arabic. "There was content insensitive to Muslims included in the game, and it has been removed. It was not supposed to exist as it appeared in the game. We deeply apologise.
"We are also taking all necessary measures at this moment within the company to determine and understand the situation and to avoid such errors in the future."
Former Vlambeer founder Rami Ismail was one of the most prominent names speaking out against the content.
"Could we please just not put text from the Quran on the ground or on places people where people can walk on it," he asked on Twitter.
"Even if you think religion is nonsense, there's just no reason to be disrespectful towards two billion people's culture and beliefs in a videogame for a throwaway asset."
After the apology was made, Ismail welcomed it, saying: "It's good to see an apology for the absolutely unnecessary and needless inclusion of Quran texts that people can walk over."