Abandoned studio thanks Kojima for 'addressing conspiracy theories openly'
The studio has also asked fans to stop harassing the Metal Gear Solid creator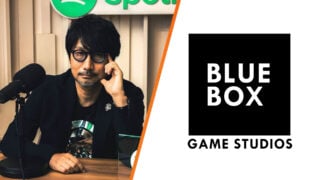 Blue Box Game Studios, the developer behind the horror game Abandoned, has thanked Hideo Kojima for publicly addressing long-running speculation that he's involved in the vapourware project.
Earlier this week Kojima broke his silence about being linked to the project on his podcast, Brain Structure, in an attempt to end months of rumours that the Metal Gear creator was the secret mastermind behind the controversial game.
"We want to thank @Kojima_Hideo for addressing the conspiracies openly," Blue Box tweeted. "It has been a burden and not cool for both fans and developers. We hope everyone can close this for good."
Kojima claimed on his podcast that fans have been spamming his Twitter feed daily with memes and deepfake images relating to Abandoned. "They still send me collages and deep fake images, like twenty a day, it's really quite a nuisance.," he told The Game Awards creator Geoff Keighley during the podcast. 
Blue Box asked fans stop contacting Kojima about the project too, tweeting: "Also, we ask fans to stop harassing Hideo Kojima regarding Abandoned messages. This is not acceptable and is not entertaining."
Speculation that Kojima is linked to Abandoned have generated a significant amount of buzz for Blue Box and a project of which nothing resembling gameplay has been seen.
Last year, Blue Box founder Hasan Kahraman appeared on camera to debunk theories that he was actually Kojima working on a Silent Hill game.
"Just wanted to do a really quick video to show myself, [and] that I'm a real person," he said. "I'm not really associated with Hideo Kojima, not an actor, not working on Silent Hill, so yeah, I just wanted to show you guys my face and that I'm real, and hopefully we'll do a Q&A really soon."
Kojim said on his podcast this week: "I have never spoken with Hasan, the game is yet to be released. I don't think there's much he can do or say at this point. But if he releases the game, people might understand, so maybe he should just hurry up and release it."