A two-hour Zelda: Breath of the Wild orchestral concert is available to view online
The concert is presented by Japanese orchestra Ensemble G.A.P.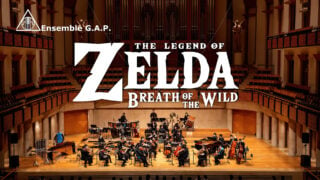 A two-hour orchestral concert dedicated to The Legend of Zelda: Breath of the Wild has been made available to watch online.
The Legend of Zelda: Breath of the Wild – The First Concert took place on April 22 at the Tokorozawa Civic Cultural Centre in Japan's Saitama prefecture.
A recording of the full concert, which lasts an hour and 56 minutes, has now been made available to view online.
The concert was performed by Ensemble G.A.P., a Tokyo-based group who specialise in performing orchestral renditions of game, anime and pop music (hence the name).
The concert opens with the music from the iconic 2017 trailer for Breath of the Wild, and goes on to offer a further 15 pieces split into three parts.
It then ends with an encore featuring the Champions' Ballad and the music from the E3 2021 teaser trailer for The Legend of Zelda: Tears of the Kingdom.
"We are happy that so many people were able to view the concert," the video's description reads.
"We are just a group of game fans and amateur musicians. This performance is unofficial, we are not affiliated with Nintendo or any other music rights holders".
An English version of the concert's programme has also been made online, making it easier for viewers to keep track of which themes are being played.
After a number of delays, The Legend of Zelda: Tears of the Kingdom will be released on May 12 on Nintendo Switch.
"Link begins his journey on one of the many mysterious floating islands that have suddenly appeared in the skies high above Hyrule," Nintendo's official description reads. "It's there our hero will have to gain new abilities before returning to the surface world to begin his epic adventure.
"The sky isn't the only thing that's changed in Hyrule. Familiar locations have been dramatically transformed, with new towns, dank caves, and mysterious gaping chasms springing up across the world—all waiting to be explored."
Related Products
Other Products
Some external links on this page are affiliate links, if you click on our affiliate links and make a purchase we might receive a commission.