A Total War Saga: Troy is now free on the Epic Games Store for 24 hours
Creative Assembly's strategy game coming to other digital PC storefronts in August 2021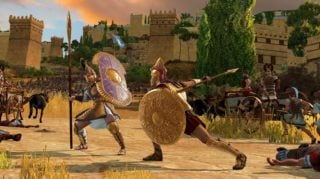 A Total War Saga: Troy has released exclusively via the Epic Games Store and is free to download in its first 24 hours of availability.
The free offer launched on August 13 at 6am PT/9am ET/2pm BST and will last for one day. After that the game will cost £34.99.
Publisher Sega will release Creative Assembly's strategy game via Steam and other digital PC storefronts starting in August 2021.
"Thanks to Epic, we're able to offer a Total War title for free on its launch day," Sega Europe chief studios officer Tim Heaton said in June. "It's a hugely exciting thing for us to be able to do for our players.
"Not only does this mean that we can bring the tales and legends of Troy to a wide audience through Epic's massive platform, but it also means new players will get to try Total War for the first time, experiencing the unique gameplay that the series is famous for."
Epic said in January that the Epic Games Store had attracted 108 million PC customers since launching in December 2018.
More recently it hit 61 million monthly active users on PC thanks to a promotional campaign called The Vault, which saw it give away a series of high-profile free games including Grand Theft Auto V, Borderlands: The Handsome Collection, and Civilization 6 between May 14 and June 18.
Anticipating that some players would be unhappy about A Total War Saga: Troy's Epic Games Store exclusivity period, developer Creative Assembly wrote a blog post explaining the decision earlier this year.
It said the commercial agreement was stuck in order to reach as many new players as possible, while stressing that it's currently a one-off deal — "in principal we'd like future Total War titles to be simultaneously available, from launch day, on as many store fronts as possible".
Creative Assembly said Epic approached it to ask if the game could be exclusive to the digital marketplace and claimed accepting the offer "was a difficult decision", largely because of the impact it would have on players.
"However, ultimately we considered two things," it explained. "First we're at a time when we're looking to invest more into the ongoing development of Total War this felt like an opportunity to really move the franchise forward by getting it in front of more people.
"Secondly, Epic were paying for our players to have our latest release free on day one. For Total War's 20th birthday, that felt like an opportunity too good to pass up."
The Total War series launched in June 2000 with Shogun: Total War and has sold over 25 million units.
The most recent series entry before Troy, Total War: Three Kingdoms, sold one million copies within a week of its May 2019 release.