A THQ Nordic showcase later this month will see 'legendary franchises' returning
The publisher will celebrate its 10th anniversary with six new game announcements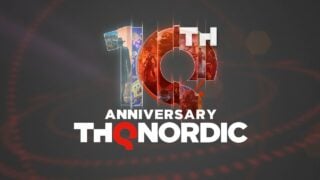 THQ Nordic has announced a 10th anniversary showcase later this month.
The event will be the first ever digital showcase hosted by the publisher, and will be streamed on September 17 at 12pm PDT / 8pm BST on YouTube, Twitch and Steam.
The show will be hosted by The Game Awards executive producer Geoff Keighley, and will include six new game announcements.
According to a press release by THQ Nordic, these six announcements "will take you on a journey through time and space".
They will also include the "return of legendary franchises, including some for which fans have been waiting decades to get their hands on a new instalment", as well as sequels to "beloved games".
THQ Nordic was formed in Vienna in 2011 as Nordic Games, until it acquired all the left over properties from the bankruptcy auctions of THQ in 2013, followed by the THQ trademark itself in 2014. The company was then renamed THQ Nordic in 2016.
It currently owns 19 development studios, including Bugbear Entertainment (Wreckfest), Black Forest Games (the Destroy All Humans remake), Gunfire Games (Darksiders III) and Rainbow Studios (MX vs ATV).
THQ Nordic hired TimeSplitters co-director Steve Ellis in 2019 to work on a new TimeSplitters game, claiming he will "help plot the future course for this franchise".
However, earlier today the studio's official Twitter account told a follower that one of the announcements wouldn't be TimeSplitters because "it's not our IP".
Last year, THQ Nordic claimed that an in-game item put in its latest release referencing "TimeSplitters 2 Remake" was a joke.