A Sonic announcement is being teased for The Game Awards
Twitter chats and domain registrations suggest something may be imminent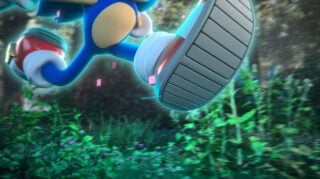 A new Sonic-themed announcement may be made at The Game Awards on Thursday, if recent events are anything to go by.
The show's host and creator Geoff Keighley first raised suspicion when replying to a claim on Twitter that there would be a number of large announcements at this year's Game Awards.
Another user asked Keighley if he was a Sonic fan, to which he replied "very much so", with an 'eyes' emoji, often used to draw attention to something or to deliberately sound suspicious.
This was followed a few hours later by the official Sonic the Hedgehog Twitter account tweeting: "Hey @geoffkeighley do you have any extra invites to TGA?"
A new domain has also been registered on the official Sonic the Hedgehog website, with the URL frontiers.sonicthehedgehog.com.
While this doesn't actually show anything yet, visiting the site presents users with a 403 Forbidden message instead of the usual "not found" error seen in browsers when a page doesn't exist. This implies the URL is being used for something.
Sonic Frontiers is believed to be the name of the upcoming open-world Sonic the Hedgehog game originally teased by Sega in May, and headed for PS5, PS4, Xbox Series X/S, Xbox One, Switch and PC.
It was originally believed that the game would be called Sonic Rangers, based on metadata referencing files used in the production of Sega's teaser trailer.
However, on October 17 an anonymous leaker claimed that the name of the game had been changed to Sonic Frontiers, and a few days later Sega registered the Sonic Frontiers trademark.
If there is a Sonic announcement at The Game Awards, it may not necessarily be Sonic Frontiers.
Sega has also previously confirmed a new retro compilation called Sonic Origins, which contains Sonic, Sonic 2, Sonic 3, Sonic & Knuckles and Sonic CD.
There's also the upcoming movie Sonic the Hedgehog 2, which is set for release in cinemas in April but has yet to receive a full official trailer, as well as the Netflix animated series Sonic Prime, which has still also yet to be seen.