A sealed copy of Super Mario 64 has become the world's most expensive video game
The $1.56 million sale breaks the previous record set by a copy of Zelda just two days earlier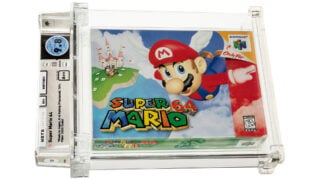 The record for the most valuable game of all time has been shattered by a sealed copy of Super Mario 64.
The pristine condition Nintendo 64 title sold for $1.56 million, making it easily the highest price anyone has ever spent on a video game at auction.
The record had already been broken two days earlier, when a sealed, early production copy of The Legend of Zelda sold for $870,000.
With more than 11 million copies sold, Super Mario 64 is not a particularly rare game.
Given that Nintendo 64 games were sold in cardboard boxes, however, the chances of seeing a boxed copy in a reasonable condition 25 years after launch are few and far between.
The copy that sold for $1.56 million was graded 9.8 A++ by video game grading company Wata, which is as close to perfect condition as possible.
The phenomenon of rare games selling for extremely high prices at auction is a relatively new one, and the record has been broken a number of times in recent years.
Last November a sealed copy of Super Mario Bros 3 became the world's most expensive game after it sold for $156,000 at auction.
It broke the record previously set in July 2020, when a copy of 1985's original Super Mario Bros. sold for $114,000.
A sealed copy of 1998's Pokémon Red for GameBoy also sold for $84,000 at the same auction, setting a record for a Pokémon title.
A rare Nintendo PlayStation prototype was sold for $360,000 in March – this was the record price for any piece of gaming memorabilia, until the auctions of The Legend of Zelda and Super Mario 64 this week.