A scrapped Castlevania mobile game is now coming to Apple Arcade
Castlevania: Grimoire of Souls soft-launched in Canada but was then shut down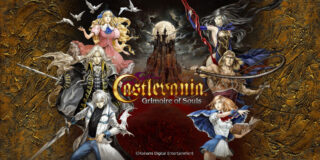 Konami is bringing a previously discontinued Castlevania mobile game to Apple Arcade.
Castlevania: Grimoire of Souls was originally announced back in April 2018 and was 'soft launched' in Canada in September 2019.
However, a year later the game was discontinued, before it was ever released in any other region.
Now Konami has announced that Grimoire of Souls is coming soon exclusively to Apple Arcade, which seemingly means it won't have the in-app purchases the original mobile release had.
Grimoire of Souls is a classic 2D Castlevania style game with 60 stages to play through.
Players can choose between five playable characters from Castlevania's history:
Simon Belmont (Castlevania)
Maria Renard (Rondo of Blood)
Alucard (Symphony of the Night)
Charlotte Aulin (Portrait of Ruin)
Shanoa (Order of Ecclesia)
According to the game's Apple Store description, there will be a variety of equipment to collect, as well as daily and weekly missions. More playable characters are also said to be on the way.
The game's character design was handled by Ayami Kojima, who had previously worked on Castlevania: Symphony of the Night and Castlevania: Aria of Sorrow, while the main theme was composed by Michiru Yamane, who was also the composer on Symphony of the Night.
It appears that Grimoire of Souls isn't the only title Konami is resurrecting.
Both the Australian and South Korean classification boards have given ratings to the Castlevania Advance Collection, an as-yet unannounced title.
Based on the name, it appears to be a compilation of the three critically acclaimed Game Boy Advance titles in the series – Circle of the Moon, Harmony of Dissonance and Aria of Sorrow.