A Pokémon Unite Switch network test is available if you have a Japanese eShop account
The test can be downloaded for free and played until June 26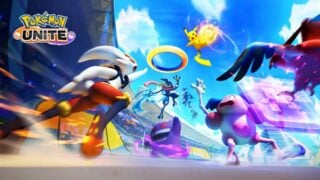 A public network test for Pokémon Unite has been released for Switch in Japan.
Players with a Japanese eShop account can download the free test now and try the game out, but only until Saturday June 26.
Because the network test is only being released in Japan for now, the game is entirely in Japanese.
The Pokémon Company said last week that Pokémon Unite, which is a cross-platform MOBA, will release for Switch in July and mobile devices in September.
Pokémon Unite was announced in June 2020 and is a co-operative team battle game created in collaboration with Tencent.
The game is in development at Tencent's Timi Studio, which also created Activision's Call of Duty Mobile, and will release as a free-to-start title for both mobile and Switch, with cross-platform play supported.
Pokémon Unite features two teams of five battling for control of a game map, similar to many popular MOBA titles, with players able to level up their Pokémon during matches, unlocking new moves in the process.
According to an earlier video, the game will feature battle passes which can be purchased to unlock different outfits for monsters. Based on menu screens, it appears that multiple costumes can be unlocked for each Pokémon.
Tencent announced its partnership with The Pokémon Company in July 2019. Its Timi studio is headquartered in Shenzhen, China and has offices in Los Angeles, Seattle, Chengdu, and Shanghai.
Timi has said Unite will offer "a new twist on team battles, with a focus on the inherent fun of playing with Pokémon, offering battling, capturing and training Pokémon to evolve."