A playable 20-foot Donkey Kong arcade machine is coming to the Museum of Play in New York
Nintendo is assisting with the project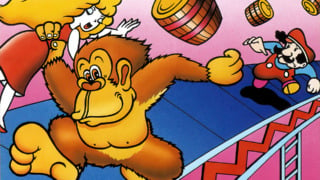 A 20-foot recreation of the Donkey Kong arcade cabinet is coming to New York, and it will be fully playable.
The Strong National Museum of Play in Rochester, NY is building the enormous machine and aims to have it set up and ready to play by June 30.
The game's cabinet will be 370% bigger than the original 1981 Donkey Kong machine, and is constructed from an aluminium frame with MDF fiberboard.
Despite its height, the game will still be fully playable by museum guests.
This will be achieved with a second, normal-sized joystick and fire button on a pedestal that will stand in front of the machine.
The cabinet, which is being built with input from Nintendo of America, will run an original 1981 Donkey Kong motherboard, to ensure it plays authentically.
The cabinet will be located in a new 90,000 square-foot expansion at The Strong, which is also home to the World Video Game Hall of Fame.
The Strong's vice president for exhibits, Jon-Paul Dyson, said in a statement: "Donkey Kong is a true titan in the video game world – both in terms of character size and the iconic status of the game – so it lends itself perfectly to this playful, whimsical installation.
"The museum's expansion will provide a new and bigger home for the World Video Game Hall of Fame, and fittingly, Donkey Kong was inducted into the hall in 2017.
"We're thankful to Nintendo of America for providing guidance as we create this unique game feature as authentically and true to the original game as possible."
Related Products
Other Products
Some external links on this page are affiliate links, if you click on our affiliate links and make a purchase we might receive a commission.