A Pikmin 4 demo will be available next week
Players can try the game ahead of its release in July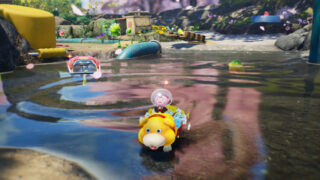 A playable demo for Pikmin 4 will be available next week on Nintendo Switch.
Nintendo made the announcement during its latest Nintendo Direct presentation, during which it shared more information on the upcoming game.
The demo will be available to play from June 28, and will let players explore the game's large first area. They'll then be able to transfer their save data to the final game when it's released on July 21.
Pikmin 4 will be the first new entry for the series in a decade – Pikmin 3 was released on the Wii U in July 2013, before being ported to the Switch in 2020.
---
Pikmin 4 Onion Locations
Purple Online location | White Onion location | Ice Onion Location | Rock Onion Location | Pink Onion Location
---
The game, which will seemingly also be the second major first-party Nintendo game to use Unreal Engine, sees the player taking control of a new character and using them to rescue both Captain Olimar and the Rescue Corps sent to find him, all of whom have crash-landed.
Before today's Direct, the last information on Pikmin 4 was given earlier this month, in new trailer revealing that the game has a character creation system.
Nintendo previously said of the sequel: "Meet Pikmin – the small, plant-like creatures you can grow, pluck, command and also overpower your enemies with during your grand mission on a strange planet.
"These curious helpers come in different types – fire is no sweat for Red Pikmin, and the new Ice Pikmin can freeze enemies and the environment. Use your Pikmin's miniature might (and some strategic thinking) as you explore.
"You get a Space Dog, too: Oatchi can help with things like smashing obstacles and carrying Pikmin throughout your adventure. With the miniscule Pikmin and a capable canine in tow, no challenge is too big or small."