A new Xenoblade Chronicles 3 deep dive shows 20 minutes of gameplay
Nintendo showed off the game in action during a dedicated Direct presentation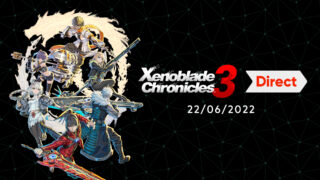 Nintendo has released a 20-minute presentation showing Xenoblade Chronicles 3 in action, which is viewable below.
The Xenoblade Chronicles 3 Direct lasted around 20 minutes and went into detail on various aspects of the game.
This includes new information on the game's plot and profiles of its six main characters.
The video offers more glimpses of the game's large open world, as well as some of the enemies players can expect to encounter.
It also goes into detail on the battle system, showing its similarities and differences to those of previous Xenoblade games.
Different character classes are also shown off in the video, including Swordfighter, Zephyr, Medic Gunner, Tactician, Heavy Guard and Ogre. Character classes can change and level up throughout the game.
Other features shown include fast travel, quest routes and the ability to change time.
Nintendo also announced a $30 Xenoblade Chronicles 3 Expansion Pass, which will offer four waves of DLC, including a "brand-new story scenario"
The game will also be compatible with amiibo figures, and tapping the Shulk figure will let the player use the Monado sword from the original Xenoblade Chronicles.
Xenoblade Chronicles 3 was originally planned for a September release, but Nintendo revealed in April that it had moved the release date forward to July 29.
According to Nintendo, Xenoblade Chronicles 3 will feature a story that ties together the futures of the worlds depicted in Xenoblade Chronicles and its sequel, Xenoblade Chronicles 2.
"A vast world awaits in Xenoblade Chronicles 3, the next game in the acclaimed RPG series from developer Monolith Soft," Nintendo said in a press release in February.
"Players will step into the roles of protagonists Noah and Mio amid turmoil between the hostile nations of Keves and Agnus.
"Six characters hailing from those nations will take part in a grand tale with 'life' as its central theme."
Although the game itself will be released on July 29, its Collector's Edition has essentially been 'delayed' as a result, because the other physical items won't be ready in time.
Related Products
Other Products
Some external links on this page are affiliate links, if you click on our affiliate links and make a purchase we might receive a commission.