A new tool claims to run PS Vita software natively on Nintendo Switch
The 'vita2hos' tool currently lets users with modded consoles run Vita tech demos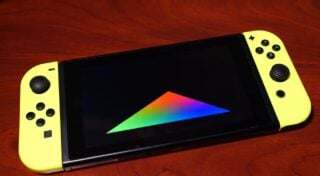 A Spanish developer has created a tool they claim allows PlayStation Vita software to run natively on the Nintendo Switch.
Sergi Granell, who goes by the username Xerpi, has created 'vita2hos', which he describes as "a PlayStation Vita to Horizon OS (Nintendo Switch OS) translation layer".
Using this layer, PlayStation Vita executables can theoretically be run on modded or development Nintendo Switch consoles.
Granell stresses that his creation is not an emulator. When a Vita executable is run, vita2hos redirects its instructions to jump to routines on Horizon OS – the Switch's operating system – that perform the same behaviour.
By doing this, the Vita executable can be run on the Switch's operating system natively, instead of via emulation.
A new video by Modern Vintage Gamer shows the tool in action. The channel was able to successfully boot simple PS Vita tech demos on a modded Nintendo Switch.
According to MVG, no commercial PlayStation Vita games currently run on Nintendo Switch and it may be a while before that happens.
The channel notes that because the Switch and Vita both have ARM CPUs, Switch is able to natively read the Vita code when Xerpi's tool provides workarounds for Sony's proprietary callouts.
"This is an early proof of concept and there's a lot of work to be done," it said.
"It's possible that we may see some commercial games start to boot. I'm not wanting to get too ahead of myself – this is still very much a proof of concept – but it is exciting stuff for both Switch homebrew fans and Vita fans."
In March last year, Sony announced plans to close the PlayStation Store on PS3, Vita and PSP.
However, following a backlash from players, the company made a partial U-turn in April, saying that it would no longer close the PS3 or Vita stores but was still planning to shut the PSP store, which it did in July.
In October, though, Sony limited the number of ways customers could pay for PS3 and Vita content by removing the ability to use a credit or debit card, or PayPal, to buy digital content or top up their PlayStation Store wallet directly from their PS3 or Vita.
Related Products
Other Products
Some external links on this page are affiliate links, if you click on our affiliate links and make a purchase we might receive a commission.