A new OLED version of the Steam Deck has been announced
The Steam Deck OLED has improved battery, Wi-Fi and thermals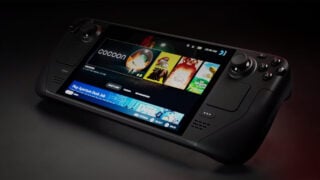 Valve has announced a new OLED version of the Steam Deck.
Simply named the Steam Deck OLED, the new version will become the new premium versions of the handheld, alongside the 256GB version of the LCD model.
According to Valve, the 64GB and 512GB versions of the LCD model will be phased out, meaning the three new options for customers will be:
256GB LCD –$399 / €419 / 349
512GB OLED – $549 / €569 / £479
1TB OLED – $649 / €679 / £569
The new OLED model will feature a slightly larger 7.4″ display (compared to 7″ on the previous models), and will support HDR, as well as other improvements.
These include improved Wi-Fi (6E instead of 5), a better battery (50Whr instead of 40Whr) and updated thermals that make the handheld run cooler. It will also be 30g lighter.
The new OLED versions aren't yet available to order on the Steam website. Players will be able to order them on November 16 at 10am PT / 1pm ET / 5pm GMT.
At the same time, a limited edition version of the 1TB model with a transparent shell and red buttons will be available in the US and Canada only on November 16.
Valve has dropped the price of the 64GB and 512GB LCD versions of the Steam Deck to $349 / £309 and $449 / £389 respectively, to clear stock of these new phased-out models.
While the Steam Deck OLED is an improved version of the existing Steam Deck, Valve coder Pierre-Lou Griffais told The Verge in September that a true successor to the Steam Deck won't be expected "in the next couple of years".
His comments echoed those of Valve designer Lawrence Yang, who told Rock Paper Shotgun in February that "a true next-gen Deck with a significant bump in horsepower won't be for a few years."